fredag 21. oktober 2011
Vi fortsetter fredagsspalten vår med en ny go'låt. Denne fredagen presenterer vi en klassiker.
Debbie Jacobs - Don't You Want My Love
En skikkelig disco klassiker i fra 79'. Den her skal få de fleste i gang med rytmiske hoftebevegelser.
Et godt sommerminne i fra 2011. Victor Rossado spilte denne på Paradise Garage kvelden i sommer som ble avholdt på Jaeger. Det var Paradise stemningen over hele Grensen, men når Mr. Rossado smalt opp denne gikk folk bananas. I følge ryktene sies det at vaktmesteren i Grensen nr 9, måtte restaurere halve taket + nabogården. Det meste av taksteinen var løsnet. Om dette skjedde under denne låten vites ikke....
Lytt:
http://www.youtube.com/watch?v=iUwUixhmgbM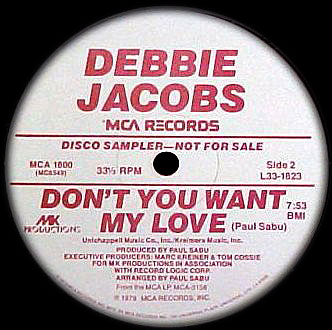 ...
neste sunkissed
Lørdag 7 mars: SUN KISSED:live
LIVE:
Hubbabubbaklubb
Gundelach
De Fantastiske To
Melkeveien
Vinny Villbass
DJ:
g-HA
Gaute Haaversen
who we are
"...for lack of a better parallel, the city's Hacienda Club" - PitchforkMedia.com

Sunkissed is the musical world of g-HA and Olanskii. Since autumn 2000 they've served up an irreverend blend of house to a packed out club every month. Ranging from dubby disco to minimal the only red thread is a base of funk and leftism tying it together. Their's is a sound honed over many years in Oslo, where a small and dj led club culture have embraced a pluralistic approach, rather than fracturing into many sub genres. Sunkissed is comitted to bringing to Norway dj's that we see taking the scene and the music forward, though the night's reputation is as much for it's consistent quality as it's cutting edge booking and music policy.

From it's spiritual base at Blå in Oslo, Sunkissed has spread to include a residency at the Robert-Johnson in Frankfurt and irregular nights at fabric in London and one-off's as far afield as Australia, and Gothenburg.

past guests
120 Days [live/1 – dj/2]
2000 and One
A Mountain of One [live]
Adam Beyer [2]
Alex Sheridan [2]
Alex Under [live]
Alexander Skancke [live]
Altaar [live]
Alter Ego [live/2]
Amalgamation of Soundz
Âme
Andrew Weatherall [2]
Annie
Anu Pillai [2]
Argy
Ariane
Aril Brikha [live]
Arildo
Art Department
Arto Mwambe [live]
Asbjørn E & Alex Jangle [2]
Audion [live]
Ben Klock [2]
Biosphere [live/2]
Bjorn Torske & Per Martinsen [live/2]
Bjørn Torske [live/2]
Booka Shade [live/3]
Bon Homme [live]
Bugge Wesseltoft [live/2]
Bygdin [live]
Carl Craig [3]
Carmen Villain [live]
Casa Electro Novo [live]
Cassy
Chase [live]
Checksum bad [live]
Children and Corpse Playing in the Streets [live]
Chris Duckenfield
Chris Lynch
Christian Sol [live]
Claude VonStroke
Control Voltage Khomeini [live]
Craig Richards [3]
Dance Disorder [live]
Daniel Bell
Daniel Mehlhart
Daniel Wang
Danny Faber
Deadswan
Dennis Ferrer
Det är Jag som är Döden [live],
DiskJokke Band [live/3]
Dixon
Diz
Dj Ata [5]
Dj Delfonic
Dj Mehdi
Dj Slimfit & Kasettspiller
Dj T [2]
Dj Urv
DJ Zip
Djuma Soundsystem [2]
Djuma Soundsystem [live]
Doc L. Junior
Doc Martin
Dom P
Dølle Jølle
Etmo vs. Olivier Tison [live]
Ewan Pearson
Federico Molinari
Finnebassen [live/3]
Fjorden Baby [live]
Four Tet [live]
Frankie Valentine
Freeform Five [live]
Frost [live/2]
Gabriel Ananda [live]
Gaiser [live]
Gerardo Niva [4]
Gerd
Glitterbug [live]
Guillaume & the Coutu Dumonts [live]
Haak [live]
Hanne Hukkelberg [live]
Headman [2]
Henrik Schwarz [live]
Henrik Schwarz & Bugge Wesseltoft [live]
Henry Seligman
Heroes & Zeros [live]
Holger Wüst
Hot Chip dj set [Felix]
Hystereo
Isolée [live/3]
Ivan Smagghe
Jay Hannan [2]
Joakim
Joe Davis
Joel Mull
John Storm n' Da Kid [live]
Johnny D [live / 2]
Jona
Josef Bamba
Josh Wink
Justus Kohncke [live]
Kalle, Magnus & Daniel [live]
Kango's Stein Massiv [live/2]
Kevin Beadle
Kim Hiorthøy [live]
Kim Hiorthøy Lokal Band [live/ with members of Jaga Jazzist]
King Britt
King Midas [live]
Kohib [live]
Kolar Goi [live]
Konrad Black
Lahar [live]
Lars Hinnerskov
LCD Soundsystem [live]
Leo Elstob
Levon Vincent
Lil'Wolf
Lindstrøm [live/4]
Lindstrøm & Prins Thomas [live/2]
Lopazz [live]
LoSoul [live]
M.A.N.D.Y. [2]
Magda [3]
Magne F [live]
Magnus Rye
Marco Soldic
Markmus
MasseLys [live]
Matthew Herbert Big Band [live/ including members of Jaga Jazzist: Martin Horntvedt, Lars Horntvedt, Matthias Eick and others]
Matthew Johnson [live]
Maya Jane Coles
Mental Overdrive [live/2]
Metro Area
Michel Cleis
Mikal Telle
Mock & Toof
Moist
Montée [live/2]
Moodyman
Mudman [live]
Mungolian Jet Set [live/3]
Munk
Nathan Haines
ND Baumecker
Necessary Intergalactic Cooperation [live]
Nemis
New Young Pony Club [live]
Nils Noa
Nils Petter Molvœr [live/3]
Nils Petter Molvœr w/ Jan Bang & Pål Strangefruit [live]
Of Norway [live/4]
Olav Brekke Mathisen [live]
Oliver Hafenbauer [2]
Olle Abstract [4]
Omar
On/Off [live]
Onur Özer
Optimo [Espacio][2]
Oslo Athletico [live]
Ost & Kjex [live/10]
Ost & Kjex vs Trulz & Robin [live/2]
Osunlade
Oxia
Pete Adarkwah
Pete Heller [2]
Phil Asher
Philip Bader
Pica Pica[live]
PowPow [live]
Prins Thomas
Punani SS [live]
Put Your Hands Up For Neo-Tokyo [live]
Pål Strangefruit [7]
Radio Slave
Raresh
Reboot [live]
Reverso 68
Ricardo Villalobos [2]
Richie Hawtin [2]
Rob Mello [2]
Robert A
Roman Flügel
Romskip og Planeter
Ron Trent
Rub n' Tug
Rune Linbœk
Sanhueza
Sascha Dive
Satyricon [live]
Sean McAuliffe [2]
Sebastian Kahrs [2]
Secondo [live]
Senor TexMex
Shahrokh Dini
Skatebård [live/2]
Smuk [live & dj]
Snuten [live/2]
Spektrum [live/3]
Spencer Parker
Sternklang [live]
Steve Bug
Stewart Walker [live]
Stian Molden [4]
Stolen Colours [live]
Style of Eye
Sunshine
Surgeon [live]
Suzie Q
Tanlines [live]
Telephones [2]
Terje Bakke
Terry Francis
Tevo Howard
The Glimmers [2]
The Megaphonic Thrift [live]
Thomas Danger [live/2]
Thomas Melchior
Tiefschwarz [2]
Tinko
Tobi Neumann
Tobii [live/2]
Todd Terje [5]
Tom Middleton
Tore Jazztobakk
Toy [live]
Troy Pierce
Trulz & Robin feat. Baseman [live/4]
Turboneger [live]
Twomass [4]
Underverk [live]
Velofax [live]
Wareika [live]
WE [live]
Who Made Who [live]
Wibutee [live/3]
Williams Cumberbache
Xploding Plastix [live/2]
Øyvind Morken